Vordio 4.8 Release
Vordio 4.x series is now discontinued. Please upgrade to Vordio 5.0 to support further development. 50% and 100% discounts are available depending on when you bought a Vordio 4 license.
However if you can't upgrade yet and need to download the last release in 4.x series, use the links below.
Download "VORDIO for Mac OS X"

Vordio-4.8.dmg – Downloaded 742 times – 74.09 MB
Download "VORDIO for Windows"

Vordio-4.8.msi – Downloaded 772 times – 73.39 MB
Vordio 4.8 is now available. It is a free update to all 4.x users.
This is an urgent patch to address massive changes to the XML exported from the recently released FCPX 10.3.
So much has changed in the new FCPX XML 1.6 that Vordio 4.x cannot work with it. You should export FCPX XML 1.5 in the meantime.
Support for the new audio features in FCPX XML 1.6 will come in Vordio 5.x.
In the meantime, a pop up warning has been added, if the XML version is unsupported.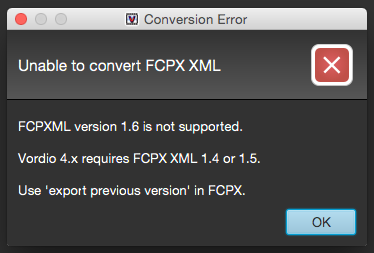 You should use the 'export previous version' in XML export. Vordio should work with FCPX XML 1.5.