Vordio 4.5 Release
Vordio 4.5 is now available for download & so much has changed.
The user interface has been completely rewritten to make way for new features & future updates. There will also be some tutorial videos coming soon.
NOTE: ffmpeg must now be installed separately to use the transcode option in Vordio. This means FFmpeg can be upgraded independently of Vordio releases, such as when a new codec is supported or fixed.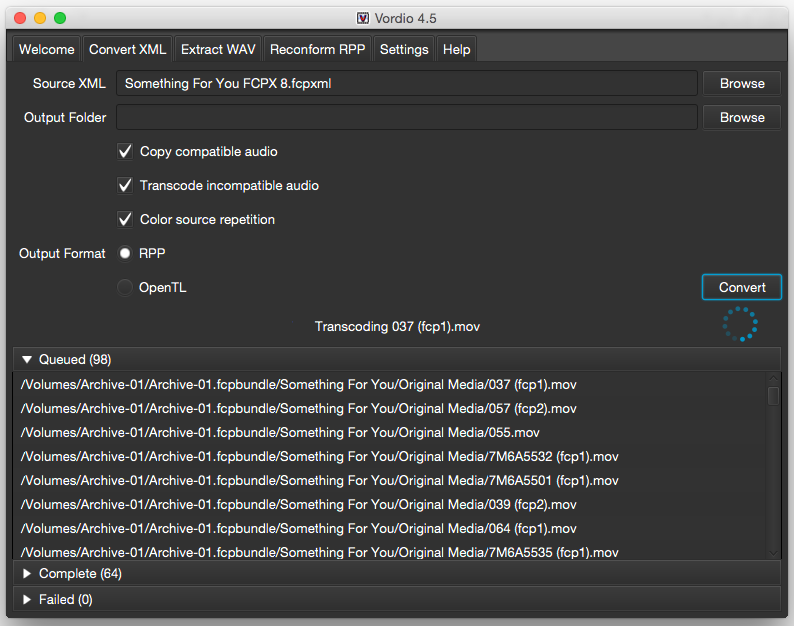 Fixed:
* Improved Premiere support. Missing elements in the XML that caused Vordio to fail on some project are now ignored or defaulted.
* RPP parsing bug that could damage FX data now fixed.
New:
* Completely revamped user interface. Functions are now separated in their own tabs. No pop ups.
* FFmpeg tools must now be installed separately for transcode to work.
* OpenTL is now supported as an output format. This means you could open a Premiere project in Logic, or an FCPX project in StudioOne.
* Media collection now shows lists of media yet to be processed, that has succeeded, or failed.
* Extract function for extracting audio from camera files.
* Lightworks 12.6 compatibility update. Lightworks also recently improved their XML export so Vordio works now.
* Windows build is now 64 bit only. Please let me know if a 32 bit version is required.
* New reconform user interface. I will need to make some tutorial videos to explain this function as it is the most complex to use.