Reconform
Vordio has a feature called 'reconform' that allows picture and sound editors to work in parallel much more easily. Vordio can readjust the items in a previously translated sound project to conform to a later version of the picture edit.
Since Vordio 5.4 now has two completely different methods of reconform.
The first approach, which existed before, is the direct item-based approach which takes a native REAPER project (RPP) + an XML as inputs. This approach directly accesses & manipulates individual items in the RPP.
The second approach instead produces a change list which can be saved & then used to perform an indirect region-based reconform with many DAWs such as Protools or Studio One.
The compare/reconform tab switches to compare mode if given two XMLs or EDLs instead.
NOTE: Reconform has been updated a lot & improved massively since Vordio 4.5, so the rest of these notes below are very out of date. It is a pretty complicated feature and some tutorials are being created. You can request the latest draft by writing to the support email.
Vordio 4.5 introduces a completely new UI and reconform engine. Below is a screenshot of the new UI involving a scene that has been deleted between edit drafts. Some of the information after this image is now out of date. Instead, a tutorial video for the new approach in 4.5 is coming soon.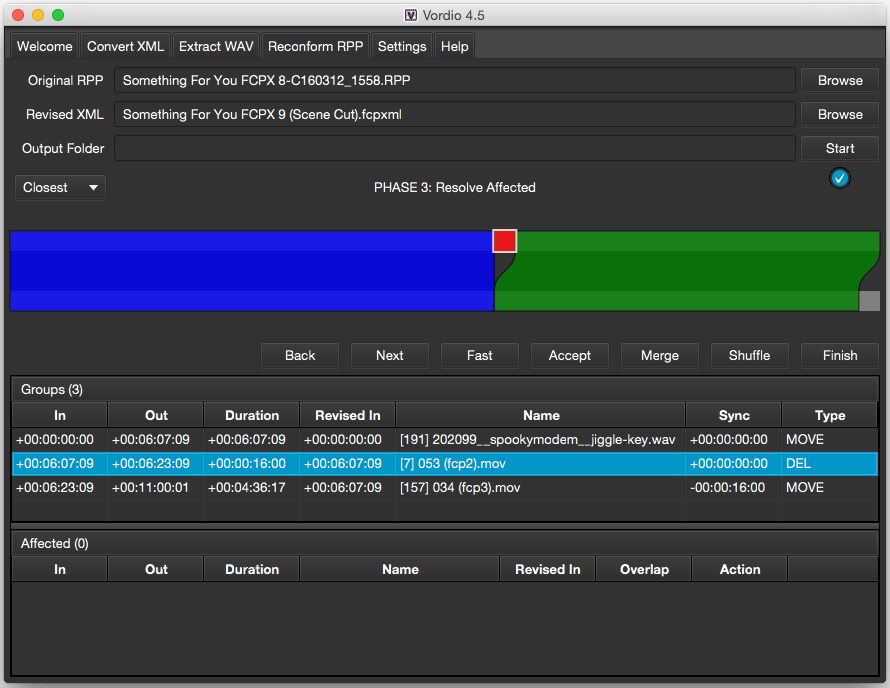 The re-conform process is completely non destructive, to avoid wasting any work already done by the sound editor, such as automation changes, fades, effects etc.
It creates a copy of the project and only changes the relative positions of audio items. It also adds any new media that wasn't present in the previous edit.
Vordio will colour code any changes in the re-conformed project, so the sound editor can quickly scan by eye to see what the picture editor actually changed/moved. This makes it easy to identify the items where some sound attention will be required again.

Blue = Audio unmoved and unchanged (no change)
Green = Audio moved, no edge modified (duration unchanged)
Yellow = Audio edge modified (duration changed)
Orange = Audio is new (didn't exist in previous edit)
Purple = Audio 'locked' to other reconformed audio moved
Red = Audio can't be re-conformed (doesn't exist in new edit)
Below is a re-conformed Reaper project where an FCPX editor added new material in the middle. New material is injected into the project at the top and coloured orange.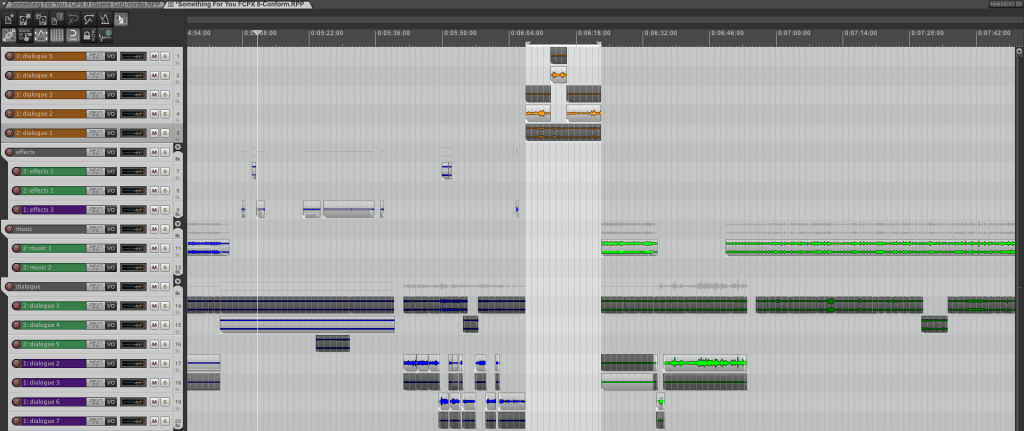 Below is a re-conformed Reaper project where an FCPX editor removed material in the middle. Obsolete material is marked in red and muted so it doesn't play.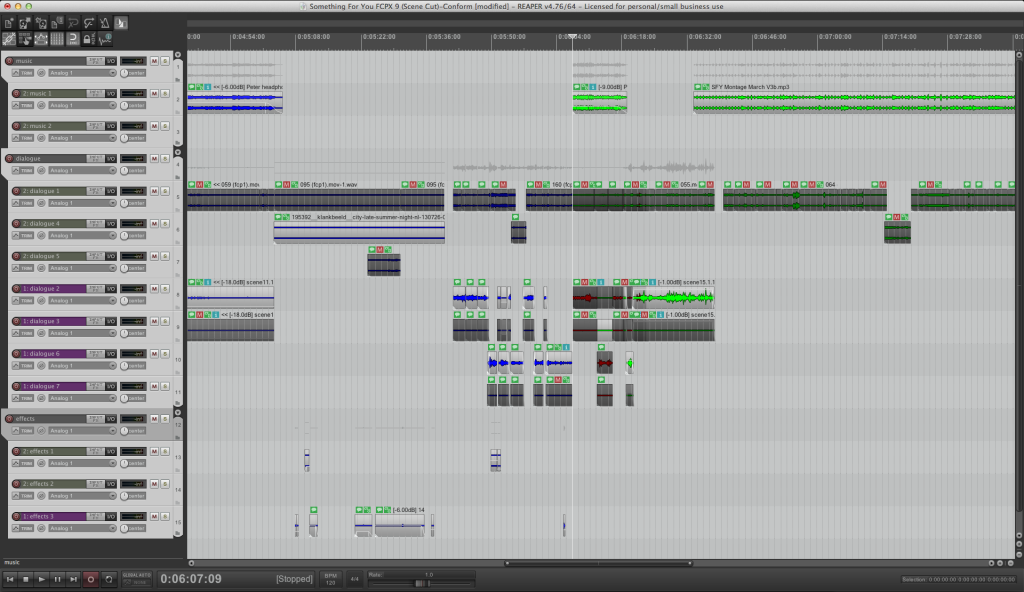 If you accidentally re-conform a project against the same edit you get lots of lovely blue. No changes!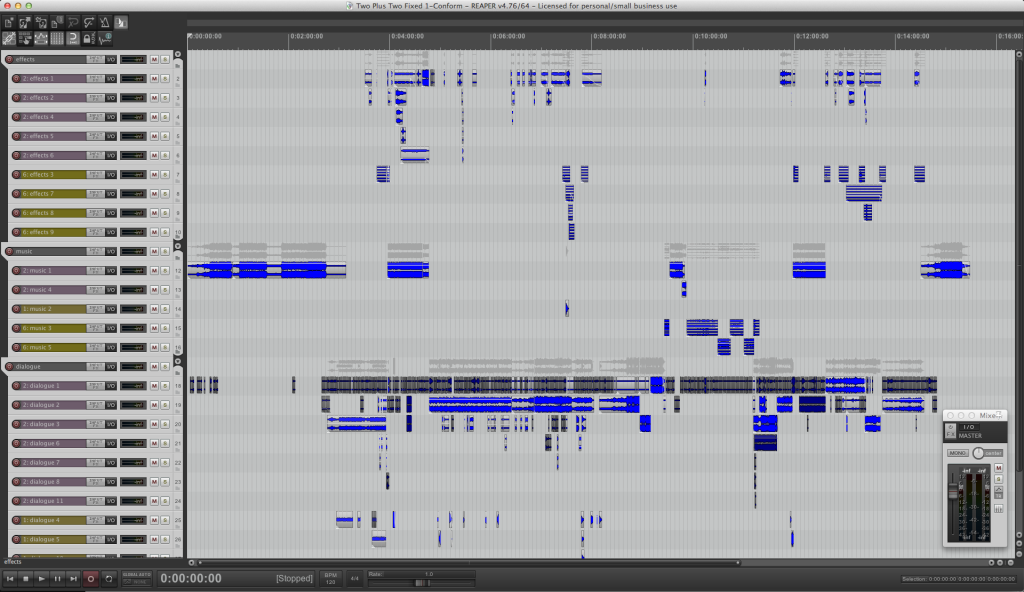 NEW in 4.2.1+: If the sound editor adds new audio to the project that didn't come from the original edit, reconform won't necessarily know what to do with it. However, reconform now supports 'locking' new audio to original audio using Reaper's group function, so it moves along with it when reconformed. 'Locked' audio that has been moved in this way with be coloured purple.
To reconform a project with Vordio, you must drop both the new XML export and the previous sound edit RPP file onto the UI.
There are two basic scenarios for re-conform. Make sure you use the correct one for your purposes.
REMOTE: If you are reconforming a Reaper project sent to you from another machine to be reconformed, which you will then send back, select remote use. This will create a new directory in same place as the XML, much like convert does.
LOCAL: If you are reconforming a Reaper project on the same machine and will work on it locally, then select local. This will put the generated files in the same folder as the Reaper project, saving a step of copying files.
To reconform a REAPER project to a new XML follow these steps.
1. Take the REAPER project to be reconformed and the new XML and drag them both onto the UI.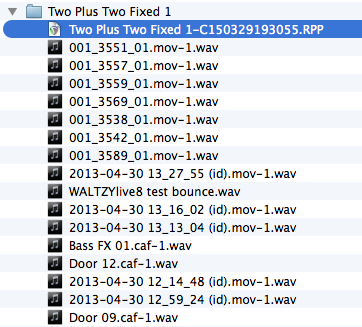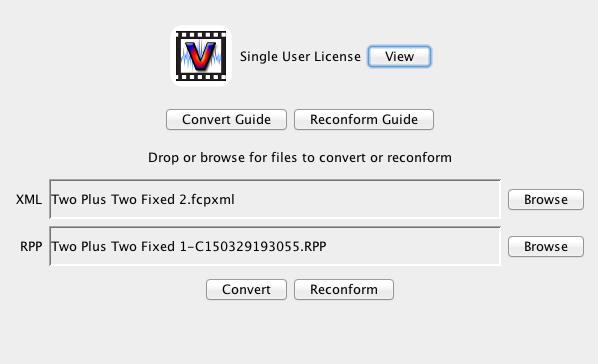 2. Confirm you want to reconform the RPP to the new XML.
3. In this example I choose remote as I want a new folder created to send to the sound editor.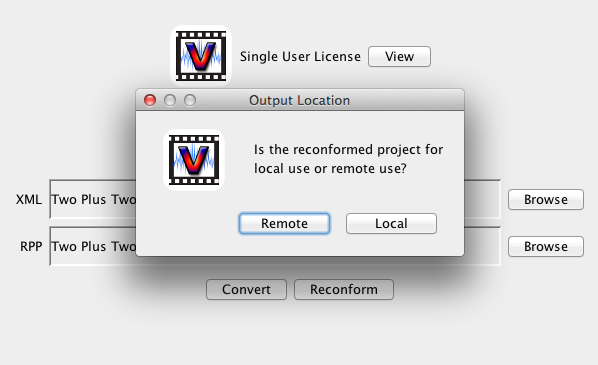 4. A new folder is created containing the new RPP and any new media that has been added to the edit. Zip this up and send to the sound editor.
5. When the sound editor receives this folder, they should copy and paste the files inside it into their original REAPER project folder.